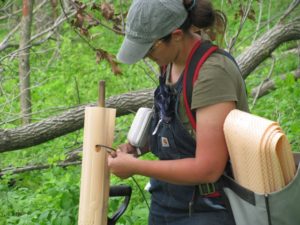 Tree planting is rapidly becoming an important source of regeneration in the areas forest. With the absence of prescribed fire, increased stocking levels in the forest, and presence of aggressive invasive species, tree seedlings no longer have the resources available to germinate and compete for survival.
Long Forestry plants on average 50,000 tree seedlings each year. We plant in a variety of ecological areas for a variety of reasons. For example, after cutting one to two acre openings in a bottomland hardwood forest, 109 bare root tree seedlings were planted in them to restock the openings with native hardwood oak species. In western Kentucky, after thinning a 10 acre bottomland stand that was severely degraded, 50 containerized trees per acre were planted to in order to restore the area to a native hardwood bottomland stand. Long Forestry also helps with coal mine restoration, where we planted 8,000 bare root seedlings and 2200 containerized trees in 2013 for mine reclamation projects.
Long Forestry has excellent working relationships with a variety of tree nurseries across the Midwest. We can access all types of growing stock and a wide variety of species, including trees, shrubs, plants, and grasses, at wholesale cost. Long Forestry also has a planting crew when hand planting is necessary, and we have a mechanical tree planter capable of planting 3,000 bare root tree seedlings per day. Contact Long Forestry to place a seedling order or to inquire about a tree planting project on your own property.