Forest stand improvement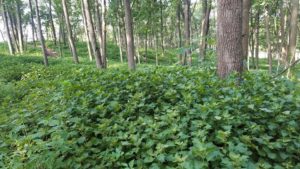 is a common management technique that involves thinning the forest with chainsaws.  It is often used in conjunction with other management techniques, such as herbicide application, timber harvesting, or prescribed burning.  There are many objectives to a FSI.  It is often used to reduce the stocking of a forest, or the amount of trees occupying a certain area.  By reducing the stocking of the forest, there is more space for the remaining trees to grow.  Sunlight floods the forest floor, promoting the seed germination of various plants and trees that cannot germinate and grow under shaded conditions. 
There are different types of Forest Stand Improvements that are applied to a forest.  The correct treatment to use depends on the landowner's objectives, the age of the trees, stocking levels, aspect, topography, and species composition.
Long Forestry provides quality FSI treatments to our clients by utilizing certified foresters to mark the trees to be cut and trained employees to perform the actual cutting.  We utilize specific protocol to improve the visual appearance and safety of the forest when the Forest Stand Improvement is complete.  A quality FSI treatment is crucial to all forests when it comes to tree regeneration, wildlife habitat, diversity, and sustainability.