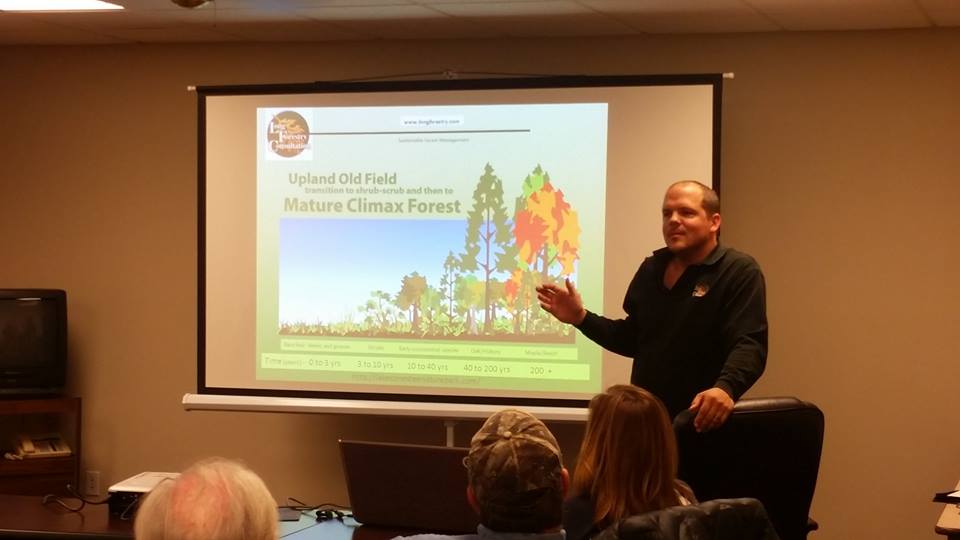 As part of Long Forestry Consultation's ongoing commitment educate landowners about their properties and forests we offer a Landowner Education Series. Open to anyone, our foresters will give a one hour presentation from one of the topics below and answer any questions you might have about your property or property ownership. Our Landowner Education Series' are held throughout southern and central Illinois and Missouri.
If you are interested in our Landowner Education Series Contact Us via phone or email with questions or to set up a presentation.
Topics
"Bush Honeysuckle – Its Ecology, Economic Impacts, and Treatment Options"
This presentation will inform you on how bush honeysuckle has come to dominate our forests, the effects of that domination, and how to get this plant out of your woods. Invasive species are a threat to native ecosystems and the native life those ecosystems sustain. Bush honeysuckle is threatening our future forests in Illinois and Missouri by taking over the understory, preventing future plants and trees from growing and stunting the growth of or killing the existing plants and trees. The good news is that bush honeysuckle can controlled and even eradicated, and we'll show you how. A question and answer session will follow.
"How to Have a Successful and Sustainable Timber Sale"
When you sell your timber there is a lot on the line as far as what determines if your sale will be a successful one, both financially and environmentally, or if will be a regretful one. This presentation will discuss the reasons for having, or not having, a timber sale, and will walk you through the timber sale process. A question and answer session will follow.
"Introduction to Forest Taxes"
Your taxes are affected in many ways when you own property, and even more so when you sell the timber on it. This presentation will educate you on how forest ownership affects your property taxes and how you can keep them low, what a timber basis is and how you can cut tax expenses on your first timber sale, and the sales taxes involved during and after a timber sale. A question and answer session will follow.
"Recipes for Success – Oak Advanced Regeneration"
This presentation will discuss why oaks are important to your local forest and what you can do to help make sure they are present in your woodlands.
"Understanding the Herbicide Label for Forest Landowners"
The herbicide label can be complicated and confusing. The session will explain the parts of the label, what you need to know from the label, and where to find it. A question and answer session will follow.